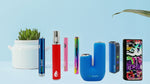 How to choose a Vaporizer Pen/Box Mod?
How to choose a nice & suitable vaporizer pen for myself? This is a question that many vape starters have. If you've never used any vaporizer device before, you may be overwhelmed when you have so many options. This article will show you some key factors when you're choosing a vaporizer pen or mod. And we hope you'll have a better understanding of vaporizers and know how to choose the right one for you after reading this. 
Pen or Box Mod?
Vape mods are considered more durable than vape pens. But vape pens are considered more convenient than vape mods. Generally, box mods can make larger vapors and the battery capacity is bigger.
I would say, the main differences between a vape pen and a box mod are about the size & the battery capacity.
So, before making any decision, you should have a think about if you need to travel a lot and how often do you vape.
(Vaporizer Pen & Vaporizer Mod) 
Top Factors In Choosing A Vaporizer Pen/Mod
Temperature Control ( Volt Switching) 
Well, trust me, you don't want your liquid to get too hot or your coils to get burnt. So, always take temperature control or the voltage changing as an important consideration when choosing your vape pen or vape box.
If you're not sure about the exact temperature the vaporizers can heat up, your best choice is to choose a smaller vaporizer pen that doesn't heat up too high. That'll ensure your liquid/oil won't burn.
As a starter, we don't suggest you to use the big sized box mod, they're more for experienced cloud chasers.
There're tons of vape pens and box mods with different size in the market now. From slim batteries to big mods. Like we mentioned, bigger mod can make bigger vapors. So, a big mod does not only easy to carry around, but also may cause trouble when you vape in public. When you're choosing a vaporizer, you need to consider that do you need the vaporizer when you're out? Or you just vape at home or only before bed?
The slim batteries or the mods from Leaf buddi are small enough to fit in pocket. You can easily carry them when you're out, or travelling. Have a look at here: 
https://leafbuddiofficial.com/collections/slim-battery 
Nothing worse than a dead vape when you really want to vape. When you're planning to vape quite frequently, the battery capacity is another key factor to be considered.
Not all the vapes would show you how long the battery would last, but they'll show you the battery capacity.
You should also keep it in mind when you're buying your mod. If you only vape before bed like me, a 500mAh one is quite enough.
Also, the charging method is what you need to consider. Do you prefer to charge with USB port, or the replaceable batteries?  
The look is actually quite important.
There're thousands of vape mods in the market, but if you don't like the look, it's pointless. Before buying any mod, you should check more mods online or at the vape stores. What color do you like and what shape you prefer?
Most importantly, are they feel good to hold in hand? 
Having a budget before purchasing a vape mod can save you a lot of time. As a starter, you probably don't need to many advantaged functions on a mod. But that doesn't mean you should buy a cheap and bad quality non-brand product.
A good vaporizer can not only work longer, but also will offer more stable performance and safe!
Above are some factors you should consider before buying your first vaporizer pen or mod. We hope this article helps. If you have any other question, you can also check more articles online & see what other people say about the latest products. If you have time, you can also read some reviews on forums, or YouTube channels!
And hope you guys have a good time vaping!