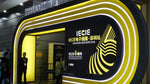 Welcome to the 5th IECIE Shenzhen ECIG Expo 2019
The Shenzhen vape expo is known as the biggest vape expo in the whole world & this year is the 5th anniversary.
As usual, thousands of vapers & almost all vape companies are in the expo to celebrate the event.
So, let's have a look of this expo & see what's happening here.
As we just mentioned, this expo is the biggest expo so far, not only the big names in this industry have booth here, but also some new brands you might not be familiar with are also here.
First of all, Leaf buddi is at the show! 
(The Leaf buddi booth & the team.)
Big names like SMOK, VAPORESSO, JOYETECH, INNOKINN are in the expo, but their booths design & area are not standing out as they realized the Shenzhen show is not "the most important" show.
True, these brands are more face to American & European market, so it seems unnecessary for them to have the make a big effort here. 
(SMOK & ASPIRE have nice booth here, but not the best.) 
Fun fact: these brands are famous & popular overseas, but they're not that well-known in China as the reason was mentioned above.
I don't have the exact data to tell how many people came to the expo this year. But it seems less than last year from the subjective feeling, and the terrible weather could be the main reason.
But like last year, a very big part of the exhibitors are making POD now. It's the trend after all. Just not sure if the POD will last forever? What's the next trend?
(I like this wall. I want this to collect my vape.) 
Another fun fact, almost 90% of vape devices are made in Shenzhen, China, but vaping is not very common now.
But I think it's getting more and more popular.
The YOOZ and RELAX are probably the most famous brand in the Chinese market now. And I really like the RELX booth. Personally, I think it's the best booth in the expo this year.
(YOOZ is now one of the most famous & popular brand in China.) 
(Personally, I think RELX has the best booth this year.)
Besides RELAX, GEEKVAPE, SUORIN, VOOPOO, UWELL got quite nice booth as well.
You'll have a good time in the expo this year, not only because you can see a lot of new products, playing games & bounding to the brand you like, but also you can talk to vapers from different countries & you can learn a lot from them. And that's a good expo about.
And let's wait for the expo next year & hope the industry will move to a new level.