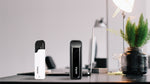 AURA, for High Privacy CBD Vaping
Intro and specs
The AURA is an attractive and hidden vaporizer with an ergonomic form factor. There is no distinct cartridge chamber —it's concealed inside the mod that blends into the design. The atomizer is 510 compatible with most mainstream CBD atomizer, come with the magnetic adapter which makes easy-to-use.
The main feature that's being marketed by Leafbuddi is that the AURA provides "High privacy CBD vaping." Way to go, Leafbuddi! That's a "feature" of a vape thesedays!
Colors: Black, white, gold, blue
Price:
w/o tank $19.99
w/ tank $21.99
Specifications
● High Privacy: Hidden Design
● High Compatibility: Fit with most 510 Tanks
● Palm Portable Size: Dimensions: 90.5*29*15.5mm
● Easy Vaping: Auto Draw System
● Strong Power Support: 650mAh Battery Capacity
Package includes
● 1* Leaf Buddi AURA Battery (650mAh)
● 1* Magnetic Adapter
● 1* Silicone Band
● 1* Micro-USB Charge Cable
Size, weight, and feel
The AURA weighs just about 30 grams. It measures 90 mm x 29 mm x 15.5 mm, which makes it perfectly pocketable.
The outside of the AURA is a sleek texture that adds to the aesthetics as well as the hand feel. The main body incorporates a juice window that show the level of your liquid left, and a little LED toward the bottom of the battery that indicates the remaining battery life.
Getting started
Everything you need to begin is in the package. When ordering the AURA, you decide whether you want cartridge or not.
If you're purchasing AURA with the cartridge, you are almost there: simply screw the magnetic adaptor on the bottom of the tank, insert it into the device and take a puff. The bottom of the chamber is magnetized and they're held incredible secured.
The AURA has no buttons or any complicated way to function. It has an automatic draw, which means you simply take a puff when you're ready to vape. The output is 3.7V constant voltage, enough for such a small device.
The AURA comes in four colors, and the tank included is white of Ccell cartridge.
Battery life and charging
The AURA comes with a Micro-USB passthrough charge port. That's the standard. The AURA has a 650 mAh internal battery capacity. The AURA does have very long run times, it seems to last a bit longer than other devices of similar battery capacity. But of course, as with all batteries, it just depends on how much you use it.
At the bottom of the AURA on the front side, there is a charge status LED.
Green on: charge
Green out: fully charged
To charge the ARUA, simply plug in the included Micro-USB cord into the bottom of the battery, and use a computer or similar outlet as a power source.