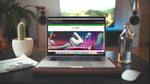 A Tour On leafbuddiofficial.com
First of all, big thanks for all of you guys who're reading the blog & who're visiting our site now. It's your love and your support that keeps Leaf buddi moving forward and getting better. Truly, love you guys.  
Leafbuddiofficial.com is built based on leafbuddiusa.com. And leafbuddiusa is a very simply website that does not have much functions. So, soon we realized as a brand, it's not enough. We need a better site that not only can show you guys all the products, but also can explain all the policies to ensure consumer's primary interests. What's more, the website should allow our customers to get involved.
So, we built a new website, and that's where leafbuddiofficial.com came from. So, today we'll take you have a tour of our new website, and see what are the new website about. Hope you'll have a better understanding on our new site and like it! Let's do it now!
The Header & Navigation Bar 
I won't say the navigation bar is too special or too unique. Let's be honest, it's common. I bet you have seen hundreds of similar navigation bars before. But as a navigation, what's the point to make it too unique and dazzling. It's about being tidy and making sense. 
When you click "PRODUCTS", you'll be led to the product feature page, where you can read & learn more about our products.
"STORE" is for the online retail store, but we only ship to USA in the moment now.
If you're a copywriter, vape blogger, vape reviewer, you can always fill the form at the "PARTNERS" page and send to us. We're open for all kinds of cooperation.
When you want to know more information of Leaf buddi, you can always find more at "COMPANY" and you can also learn more vape news from our "BLOG".
If you're a distributor and want to grow the business together, you can click "WHOLESALE"(Not open yet) for bulk purchase, or let us know your unique requirement from the "OEM" page.
We didn't launch the searching bar at the header, but you guys can find the searching bar at the lower right corner. It'll always be there even when you scroll down the page.
When you enter our site, the 6 slide banners may catch your eyes immediately, but there're also 3 smaller banners that can also be very helpful. 
If you're running vape business & already carrying Leaf buddi products, you can find our marketing materials on the "DOWNLOAD" page (Not open yet) and download all of them. What're marketing materials? Well, it includes product photos, videos, or other stuffs that you may need for marketing especially when you don't have time to create stuffs like this.
New starters who still have troubles using our product can check the "TUTORIAL" page. We collect some review videos that explains the operations. If you don't want to watch videos, you can check the "PRODUCTS" page from the navigation bar or the "FAQ" page from the footer.
If you're not sure whether your vape is authentic from Leaf buddi or not, you can check the "VERIFICATION" for a double check.
Every penny counts! As a consumer who vapes on a budget myself, promotion activities from my favorite brands are the best!
When Leaf buddi has any promotion, we'll launch the activity & make sure you guys can visit the page by clicking "START SAVING" button.
When you scroll down on our homepage, you'll see 5 photos from our Instagram. You can also find all Leaf buddi's social media accounts from the footers & the header. Seriously, why not follow us? We'll not only run giveaways and share coupon code on our social media, but also will share more vaping related tips there. So, if you find Leaf buddi's social media account, remember to click follow.
Like our navigation bar, the footer is quite simple & easy to understand.
But we suggest you to visit the "FAQ" page when you have time. You can find out some answers to frequently asked questions about the product, order issues, and return & exchanges. And we hope the answer can be any of the help.
If you think the answer didn't really help, you can also turn to our customer service team via support@leafbuddiofficial.com 
Also, do you know the warranty policy of Leaf buddi products? If you don't or not quite sure, you can check the support menu to see our Warranty Policy and Refund Policy. For customers who wants to order from Leaf buddi website, you may also want to check the Shipping page for our shipping method & the shipping time.
Above are some features & functions about our new site. We really hope you guys will like the new website. If you got anything want to know, or any other function you want us to launch on our site, please leave a comment below and we'll do our best to make them happen.
And have a nice day vaping!